Black basalt
Grey basalt
Granite Product
Lava stone
Soaping stone
Slate&Quartz
Sandstone
Pabblestone&Gravel
Your location: Home >> Bluestone>> Black basalt mosaic
· Black basalt mosaic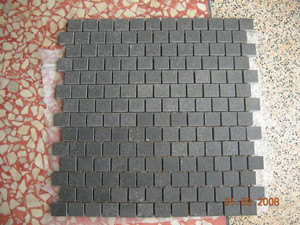 Natural black basalt Mosaic which widely used in bathroom, kitchen for wall or floor with character of countless pattern through your imagination, low water absorption and colour will not fade.
The usually Basalt stone mosaic size on Sheet:
1)305x305mm ( 12''x12'' )
2)400x400mm ( 16''x16')
3)457x457mm ( 18''x18'' )
4)600x600mm ( 24''x24'' )
5)Thickness: 7mm(0.27''), 10mm(3/8''); 12mm(1/2''); 20mm(3/4'')
6) Standard sizes or as per the customer requested
Chip size: 10x10mm / 15x15mm / 20x20mm /25x25mm /30x30mm.
The normally shape is square, irregular, rhombus, round or fanshaped.
Hope our black basalt mosaic tiles can make your contruction beautiful.